Beat Delamar Zampler//RX v2.0 x32 x64 VST AU WIN MAC Free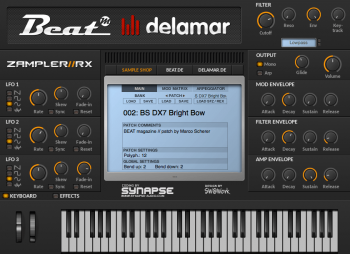 24 SEPTEMBER 2016 | WIN | MAC | 10 MB
The new Zampler//RX is also available now in the 64-bit version for Mac OS; you can test it with this exclusive sample pack, but also works fine with the old libraries. Zampler//RX version 2.0 comes with a new GUI and an improved engine. The free sampler includes good sounding filters, 3 LFO's, 3 envelope generators, arpeggiator and various effects, which make it more than just a simple SFZ player. With the Zampler / / RX Beat updates the professional sample Workstation for Windows and OS X that can compete in terms of sound and features loosely with the major operators.
The plug-in is available and enthusiastic with a thoughtful amenities for VST and AU support. Besides REX loop and SFZ compatible sample oscillators offering Zampler / / RX a tone shaping at its best: In the integrated multimode filter types lowpass, highpass, bandpass and bandstop filters as well as various combinations are resulting to choose from.