MusicTech - July 2018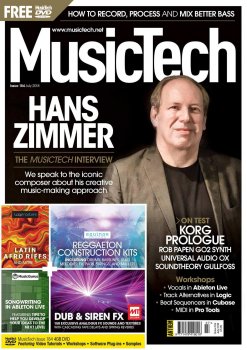 English | 124 pages | True PDF | 16.21 MB
He's the man who revolutionised modern film scores with a creative approach to music-making, sonic experimentation and sound utilisation that helps some of the biggest directors to tell their stories. This month we're overwhelmingly honoured to speak to one of the greatest composers on the planet: Hans Zimmer. In our ten-page interview we talk to Hans about his recent work with Spitfire Audio (read our review) – co-creating a remarkable assortment of production and studio tools – as well as his incredible career in soundtracking. Elsewhere this issue, Dave Gale takes us through the legacy of the vocoder, we report on this year's Superbooth show in Berlin and speak to its progenitor Andreas Schneider about his views on modular synthesis and its integral place in the music technology world. We've also got our usual tutorials, tips and reviews. Enjoy the issue!