Music Composition For Dummies, 2nd Edition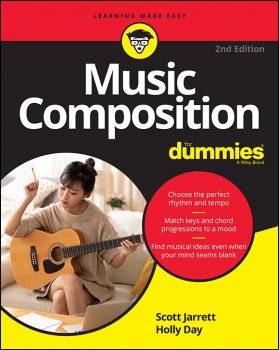 English | 2021 | ISBN: 1119720788 | 336 pages | True EPUB | 4 MB
You can hum it, but can you write it down?

When most people think of a composer, they picture a bewigged genius like Mozart or Beethoven frenetically directing mighty orchestras in the ornate palaces of Vienna. While that may have been the case once upon a time, modern composers make themselves heard far beyond the classical conservatoire and concert hall. These days, soundtracks are in high demand in industries such as TV, film, advertising, and even gaming to help create immersive and exciting experiences. Whatever your musical ambitions—composing a dark requiem in a beautiful Viennese apartment or producing the next great Star Wars-like movie theme in LA—the fully updated Music Composition For Dummies hits all the right notes to help you become confident in the theory and practice of composition.