Cinematique Instruments Zilhouette Strings KONTAKT-0TH3Rside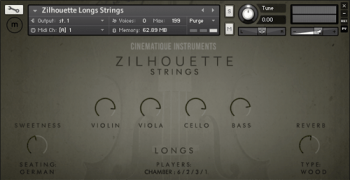 0TH3Rside | October 23, 2016 | 1.83 GB
Zilhouette Strings is the collection of all our strings we recorded so far! It includes 7 violins, 2 viola, 7 cellos and 2 basses in total. The musicians we recorded are german-known session and live orchestra musicians. All content was recorded in several recording sessions in our own recording rooms in a close and intimate distance to the instrument in a solo as well as in a trio situation. We have used condenser mics such as Neumann U-87 and TLM 103, Schoeps MK4 as well as dynamic mics such as Sennheiser MD421, AKG D112 among others.