zplane TONIC v1.1.0 [U2B] macOS-TRAZOR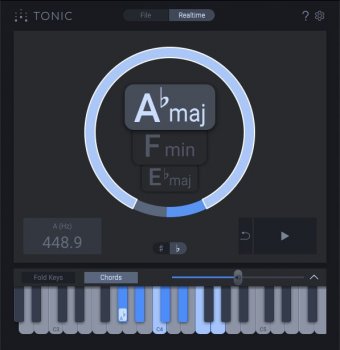 TRAZOR | Jun 22 2022 | 10.8 MB
FIND THE KEY OF YOUR LOOPS, REMIXES, AND SONG IDEAS WITH TONIC BY ZPLANE.
Use the AI-powered music theory plugin to find the scales and chords that work with your music.
Put the
TONIC
plugin on any audio track and hit play in your DAW.
TONIC
will analyse the sound in real time and present you with up to three suggested keys with a graphical representation showing the confidence level. Fold out the keys panel and try out notes and chords for the suggested keys to find the perfect fit.
Add bass, melody or harmony to your tracks with ease when knowing the key, scale and chords that work well with your recordings and samples.
KEY FEATURES
• Detect the key in any audio recording.
• Explore the compatible notes and chords with the fold-out Keyboard View.
• Mono and Stereo operation.
• Reference tuning detection for recordings that deviate from A440.
• Offline mode – detect the key before loading audio files into samplers.
• Native compatibility with both Intel and M1 Macs.
CHANGELOG:
Release 1.1.0 (May 30, 2022)
============================================================
• (all) new: The Keyboard Preview can now be externally controlled by routing MIDI into TONIC.
• (all) new: The TONIC window can now be resized with a Zoom Factor control in the Settings.
• (all) new: Chord names are now displayed when played.
• (all) new: Tooltips are shown when hovering the mouse over various controls.

Known Issues:
• Keyboard Preview generates no audio output when playback is stopped in Logic Pro.
Thanks to zytto for the supply.
download from free file storage