Tactus, Mensuration and Rhythm in Renaissance Music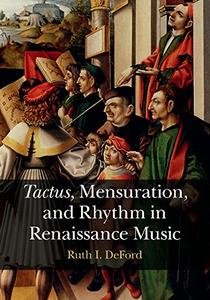 2015 | ISBN: 1107064724 | English | 518 pages | PDF | 117 MB
Ruth DeFord's book explores how tactus, mensuration, and rhythm were employed to articulate form and shape in the period from c.1420 to c.1600. Divided into two parts, the book examines the theory and practice of rhythm in relation to each other to offer new interpretations of the writings of Renaissance music theorists. In the first part, DeFord presents the theoretical evidence, introduces the manuscript sources and explains the contradictions and ambiguities in tactus theory. The second part uses theory to analyse some of the best known repertories of Renaissance music, including works by Du Fay, Ockeghem, Busnoys, Josquin, Isaac, Palestrina, and Rore, and to shed light on composers' formal and expressive uses of rhythm. DeFord's conclusions have important implications for our understanding of rhythm and for the analysis, editing, and performance of music during the Renaissance period.
Extract RAR5 archives

The majority of unpackers do not support the new RAR5 format. You will receive an error message when you try to open it, and there is usually no way to integrate it manually into the application to add support for it.

So, the only feasible option right now is to install Winrar 5.x on your system if you want to use a graphical user interface. Note that this is a trial version, and while it won't stop working after the trial runs out, it will nag you to upgrade the software.
download from free file storage