Authenticities: Philosophical Reflections on Musical Performance by Peter Kivy PDF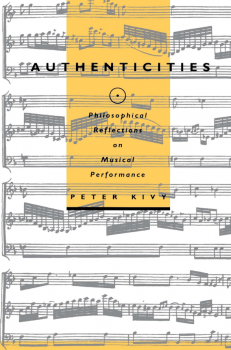 1995 | Cornell University Press | ISBN: 9781003125075 | 20.7 MB | 320 Pages | PDF
How are we to assess the current popularity of period instruments and early-music performance? For musicians and audiences alike, the "historical authenticity" movement has increasingly influenced the performance of classical music. It has given us, claims Peter Kivy, "new and rewarding ways of listening to our musical reportory (as well as silly, vulgar, and unrewarding ones)." He believes that theory now overrules the ear in arguing for and justifying particular aesthetic decisions.
In his customary engaging style, Kivy here mounts a philosophical inquiry into the desirability of using or re-creating historical performance. "Authenticity has become so widely accepted," he writes, "that why it should be accepted has become an unasked, indeed a forgotten question among the converted." In "How to Be Authentic," the first section of his book, he examines four different kinds of authenticity; in the second part, "Why to Be Authentic," he suggests how to evaluate them. Discussing issues that he cares about passionately, Kivy provides ammunition for both camps—those who follow authentic performance practice and those who do not.
It is his hope that this book provides the groundwork for dialogue between mucisians and philosophers. "I look forward to that," he says, "and to being, when it comes, in the thick of things."