Substitution and Passing Chords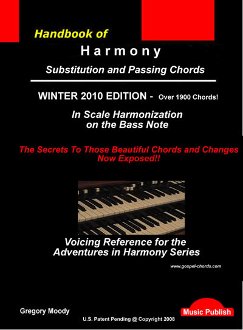 P2P | PDF | 11MB
This volume contains passing chords and chord substitutions for Diatonic Tones I through Major VII
The voicings in this reference are used in the patent pending system and technique created by Creative Music. Creative Music has developed a revolutionary method enabling keyboard musicians to quickly harmonize a line of notes with infinite chord changes. Imagine being able to play a different chord on every melody note! The system is such that no two musicians will come up with the same resulting harmonization.
This is the first time that this information has appeared in print allowing anybody to create that soulful sound in their music.
With this course you will be creating harmonies and progressions to go with music of your choice.
There are no songs or progressions to memorize in this course. This is because you are going to be creating your own progressions and harmonies to go with the songs that you choose. This is a step-by-step that you can apply to any piece of music
Gregory Moody Creative Music's founder is an accomplished musician and software engineer, who comes from a family lineage of musicians, i.e., his world famous cousin NEA jazz master and recording artist, James Moody.
Music education has not changed in the last century, and Creative Music is on the forefront of turning that around. We are re-inventing how music has been taught for the last century. Our instructional method goes against the grain of all past music education teaching methodologies.