The Usual Suspects DSP56300 Emulator 1.2.4 Win x64 VST2 + VST3 + ROM's [FREE]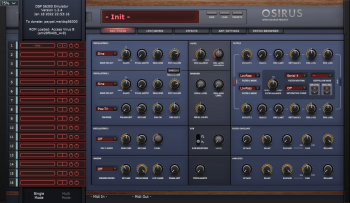 Roject | 23 January 2022 | 43,5 MB
Project Of Motorola DSP563xx Emulation.
Thanks to Ayahuasca and the whole team!
Working Access Virus ROM's included:
Virus B (4v9)
Virus B (Ver. T)
Virus C (6v5)
Virus C (6v6)
Virus Classic
Virus GmbH - Virus B & Virus C
Virus Rack XL (6v5)
Ps.
When I wrote in the readme "You can use them all in the same time" I mean:
Virus B
Virus C
Virus Classic
Virus Rack XL

If You wanna use variations (different ROM's) of the same synth You can't use the same VST plugin name
You need to change the name of the VST plugin *.dll
For example:
Original name "Virus C.dll" change to "Virus C 6v5.dll"