UJAM Virtual Bassist DANDY v2.1.1-R2R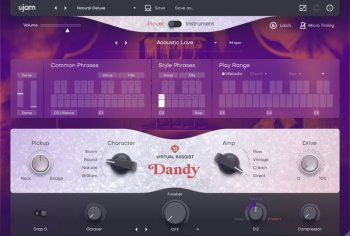 Team R2R | Sept 27 2020 | 6.08 GB
Impeccably well-dressed and polite. Absolutely lethal on bass!
DANDY is your first-call when you need a seasoned professional bassist that is totally present in a mix without ever sounding "shouty" or obnoxious. There's no aggression or "who cares" indie-rock attitude in the playing. No, DANDY quietly lays down ultra-smooth, highly-polished basslines without hogging the spotlight or taking up too much room in a mix. How civilized!
Like a classic gentleman
DANDY uses its understated charm to make you sound and feel amazing. Our meticulously sampled bass guitar with flat-wound strings has a classy, warm and restrained vintage sound that is markedly different than our more modern and in-your-face ROYAL 2 and ROWDY 2 virtual bassists. However, when paired with the included multi-effects, DANDY effortlessly delivers fantastic tones that sound right at home in both modern and vintage productions.