Waves DeEsser Modern & New Era Skin By Pauliewog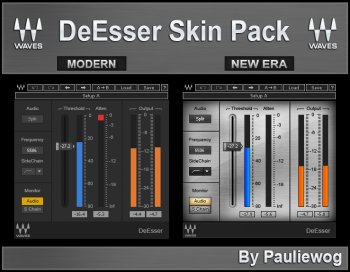 Skin | 722.94 KB
When it comes to reducing excess sibilance ("ess" and "shh" sounds) from vocal tracks,
nothing compares to Waves DeEsser.
Inspired by vintage gear for precision de-essing and high frequency limiting,
DeEsser delivers smooth and natural output with minimum fuss.
*** How To Install ***
1. Open Explorer to C: / Programs (x86) / Waves / Plug Ins V9 / DeEsser.bundle / Contents
2. Rename the PNG_.zip file to PNG_BK.zip in case you want to go back to the old skin.
3. Copy the PNG_.zip to the Waves Content folder and close explorer.
4. Open your DAW of choice and you can now use the skin I made.
Enjoy!!!
Pauliewog
download from free file storage