Groove3 Cubase 10 Editing MIDI Explained TUTORiAL-SYNTHiC4TE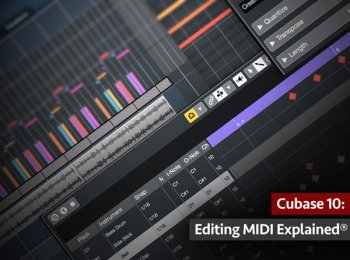 SYNTHiC4TE | April 25 2019 | 377 MB
In this Groove3 video tutorial series, DAW pro Gary Hiebner delivers in-depth videos on editing MIDI in the new Cubase 10! Learn all about Cubase 10's basic and advanced MIDI editing features and capabilities, and how to use them effectively on your Cubase tracks.
Gary begins with an introduction covering what will be shown in the series, followed by how to make sure all your MIDI Devices are setup correctly. The different types of MIDI tracks are then explained and explored, as well as how browse with the powerful Media Browser.
Next, Gary covers all the basics of the MIDI editor, plus using Quantize, Transpose, Control Change, Scales and more, including time saving keyboard commands and shortcuts. You'll then see how to create arpeggiations with Arpache SX, step program with Step Designer, and build a layered synth with MIDI sends.
Moving on you'll learn time saving key commands, how to use Chord Track, the Arranger Track, VST Expression to switch articulations on your instruments tracks, Note Expression to create dynamics, expression and interest for your instruments and so much more.
See the individual tutorial descriptions for complete info. If you're new to Cubase 10, or just want to better learn its amazing MIDI features and get more creative when producing, watch "Cubase 10: Editing MIDI Explained®" today