Groove3 - Exponential Audio Excalibur Explained FREE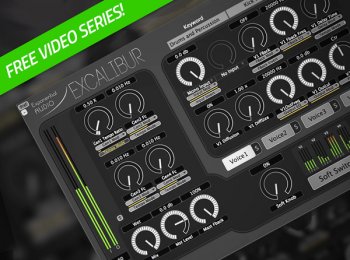 FREE | 36 Mins | 273MB
In this FREE video series, Eli Krantzberg shows you the ins and outs of Exponential Audio's incredible sounding multi-fx plug-in Excalibur.
Eli begins by welcoming you and gets you up and running quick with a 3 minute quickstart video covering the basic signal flow and modulation routings found in Excalibur.
Next, go further into Excalibur and get a deeper understanding of its interface, modulation set up, signal flow, and I/O Matrix.
Now it's time to explore the primary voice controls where you'll learn basic operation as well as more advanced routing techniques.
You'll then see how to set up a classic cross delay effect and then customize it further, followed by advanced modulation tricks and ways to create unique phaser style thickening effects.
See the individual tutorial descriptions for more info. If you have Exponential Audio's Excalibur multi-fx plug-in, or are thinking of getting it, check out this series… Watch "Exponential Audio Excalibur Explained®" today.
download from free file storage