Vic Firth Presents Tommy Igoe's Groove Essentials: The Groove Encyclopedia for the 21st-Century Drummer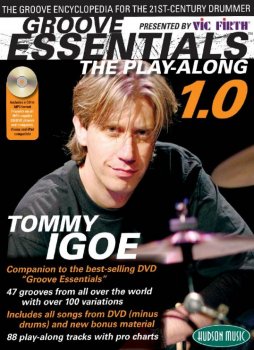 English | DVD + CD + BOOK | 4.68 GB + 640 MB + 26 MB
One of the best-selling instructional DVDs of all time, Groove Essentials™ set a new standard for educational drum DVDs! This DVD presents 47 essential grooves from Rock, Jazz and R&B/Funk to World/Ethnic music!
Tommy Igoe demonstrates each pattern at the drums and also with a rhythm track, featuring some of New York's top musicians. Mastering these patterns will greatly expand your knowledge while allowing you to become a more well-rounded player with the confidence to perform in virtually, any musical situation.
Styles include 8th-note, 16th-note and half-time Rock; Jazz waltz, shuffle and swing; R&B, Hip-Hop and Funk as well as World music styles, including Second Line, Reggae, Bossa Nova, Samba, Mambo, Cha-Cha, Bolero, and Tango. Tommy thoroughly explains each groove breaking each down to it's basic elements and performing each one with and without a live band rhythm track at two different tempos.
Groove Essentials™: The Play-Along offers a focused and interactive groove experience for drummers of every skill level with more than six hours of music! Included are professional charts, multiple tempos, groove variations and 88 separate tracks that explore all 47 grooves from the DVD. Additionally, you'll find three "Global Tour" tracks that are 15-minute journeys through all the grooves and feels you've learned!
Over 150.000 drummers around the world are using the original Groove Essentials™ materials to help them become not only better drummers, but more importantly, better musicians – making Groove Essentials™ one of the world's top-selling music education products.
download from free file storage