Secrets of Chord Substitutions Revealed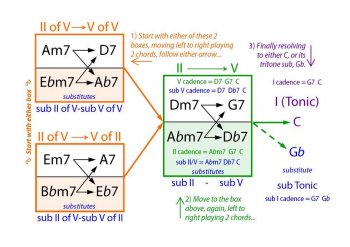 ilfsn | PDF + EPUB + IMG | 6.08MB
Musicians and Songwriters: ever get bored with the same old chord progressions?
Want something to spice up that old II-V-I (the I-IV-V of jazz)? Then this is your lucky day.
Here are 64 possible Chord Substitution progressions for II-V-I in C. It's from my eBook "Secrets of Chord Substitutions Revealed."
I learned this 40 years ago in jazz arranging classes in college, and wrote the book from my notes. Thank you, Prof Bennett Friedman.