Hip Hop Culture by Emmett G. Price III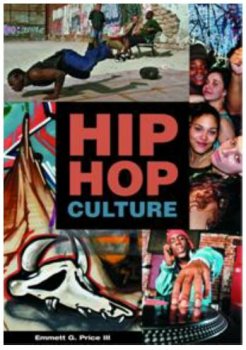 English | Publisher: ABC-Clio, 2006 | 365 Pages | PDF | 24 MB
It was born on the streets of the Bronx, Brooklyn, and Harlem, and after years underground it emerged in Los Angeles, Japan, France and beyond to become an extraordinarily rich and often controversial wellspring of music, movies, language, and fashion. This work is a revealing chronicle of Hip Hop culture from its beginnings three decades ago to the present, with an analysis of its influence on people and popular culture in the United States and around the world.
From Grandmaster Flash and the Furious Five's "The Message," to Jay-Z, Diddy, and 50 Cent, Hip Hop Culture is the first comprehensive reference work to focus on one of the most influential cultural phenomena of our time. Scholarly and streetwise, backed by statistics, documents, and research, it recounts three decades of Hip Hop's evolution, highlighting its defining events, recordings, personalities, movements, and ideas, as well as society's response.
How did an inner-city subculture, all but dismissed in the early 1980s, become the ruler of the world's airwaves and iPods? Who are the players who moved Hip Hop from the record bins to the pinnacles of entertainment, business, and fashion? Who are the founders, innovators, legends, and major players?
Authoritative and authentic, Hip Hop Culture provides a wealth of information and insights for students, educators, and anyone interested in the ways pop culture reflects and shapes our lives.
Features:
- An extensively researched narrative of the history of Hip Hop in four informative, richly
detailed chapters
- More than 50 photographs of Hip Hop's major players, scenes, and styles
- An extensive annotated bibliography of print and online resources, plus listings of
important organizations, associations, and programs dedicated to Hip Hop culture
- A comprehensive glossary of terms and phrases such as "bling bling" and "thuglife"
- Sidebars on fascinating topics, reflecting the latest research and statistical data
- Analyses of the 50 most influential Hip Hop songs and the 30 most influential Hip Hop
albums
Highlights:
- The first reference work to offer a comprehensive study of the 30-year history of Hip Hop
culture in all its expressions—not just music, but fashion, language, lifestyle, and business
- Looks at Hip Hop from social, political, economic, and cultural perspectives
- Provides expert analysis on the major issues and controversies of Hip Hop commercialism
and commodification, censorship, violence, the degradation of women, and more
- Combines scholarship and insider credibility to provide a wealth of information and
insights to students, educators, and general readers
download from free file storage