recordingrevolution Record Making with Jacquire King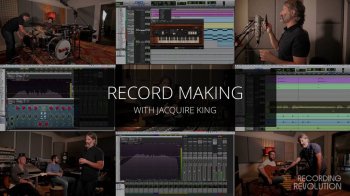 VisionSierra | 06 August 2019 | 39 GB
This is your chance to step into the studio of a top-level producer, and see the secrets behind his Grammy-winning records.
Inside the course, you'll sit with Jacquire as he pulls back the curtain to give you his uncensored, raw advice on how artists and producers can succeed in today's music industry.
You'll watch over Jacquire's shoulder as he walks you through recording, producing, and mixing a song from scratch.
You'll step inside his studio in Nashville to see how he records guitars, bass, pianos, drums, and vocals.
You'll get to look inside his DAW and see how he's produced and mixed songs in genres such as rock, pop and acoustic.
His favorite plugins, his go-to mix tricks, how he sets up his mixing sessions…
It's like spending several weeks with him inside his studio.
And with this course, you can do that from the comfort of your home.
Links fix!. PiRAT