UJAM Virtual Drummer HEAVY v2.0.1-R2R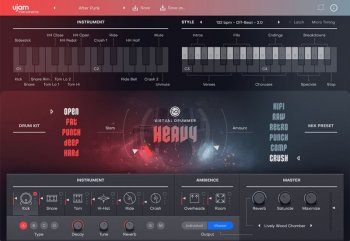 Team R2R | Sept 27 2020 | 1.2 GB
Beast Mode On!
Virtual Drummer HEAVY is an authoritative, hard-hitting rock drummer, permanently set to beast mode! Always delivering what its name promises, HEAVY punishes the drums with relentless weight and energy behind each hit, driving your tracks forward and providing the perfect basis for all manner of rock, indie and grunge styles.
For Those About to Rock
Virtual Drummer HEAVY is a forceful rock and indie specialist. For all genres from soft pop rock ballads to Seattle-style overdrive grunge, HEAVY adds a wide range of drumming styles and sounds in your production.