Positive Grid BIAS Pedal v2.3.3 Incl Keygen-R2R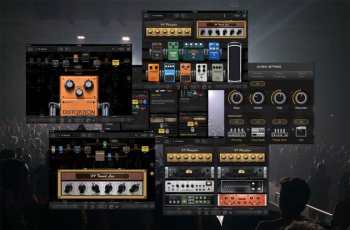 Team R2R | Oct 22 2019 | 276 MB
Utilizing a similar component-based philosophy as our revolutionary BIAS Amp designer, BIAS Pedal enables you to virtually create your own custom pedal, with full control at the pedal's circuit level. Seamlessly integrated with BIAS FX, BIAS Pedal makes it possible to add your custom pedal to your BIAS FX pedalboard.
BIAS Pedal seamlessly integrates with your BIAS FX effects arsenals. It automatically imports your custom delay pedals into the BIAS FX pedalboard's dual signal chains with dual BIAS amps. It also includes all of BIAS Pedal's stock goodies, including Amp Room six guitar amps from the rockin' BIAS Amp to blow through.
Detailed Customization
From the input volume, to the distortion stages and gain control, to pre and post EQ and much more. You can even change the pedal's virtual guts as you would do with a real distortion pedal modify your boost pedal's germanium transistor or tweak your fuzz pedal's silicon transistor.
Match Any Distortion Pedal
Dive into your dream tone instantly by matching your favorite distortion, overdrive, fuzz, and boost pedals. BIAS Pedal's Tone Match technology analyzes and compares your currently selected pedal and the sound of a target tube pedal. It then executes the tonal compensation and enhancements needed to make your pedal's sound accurately match that of the target pedal.
We have updated the hosts (homecalling) to block. If you have issue with
previous release, try to update your blocking list.

----------------------------------------------------------------------------

* BIAS Pedal Delay Pack
* BIAS Pedal Distortion Pack
* BIAS Pedal Modulation Pack

Do not use ToneCloud. ToneCloud is web service. If you really need it, buy
the software (and get the right to use the service). Some cracks available
from others claim as if they crack the ToneCloud, but it's not true. The
license validation in ToneCloud is done in the web server which means it's
not really crackable. All those cracks just ignore the server response which
invalidates the license.

1.PositiveGrid can update the server to reject the access from invalid
license anytime by updating server.

2.PositiveGrid can trace the user who used ToneCloud without buying.

No one can crack web related function(s) permanently and safely.