Steinberg LM4 Mark II VSTi v1.1 + Soundbanks[x86] - ZONE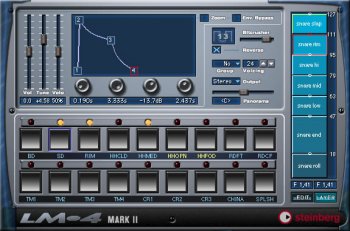 WiN | 25 MB
LM-4 MarkII by Steinberg is a Virtual Instrument Audio Plugin. It functions as a VST Plugin.
Features:
32 bit drum module.
18 channels/pads.
Up to 20 velocity zones per pad.
Over 50 Drum sets included.
12 outputs (3 stereo and 6 mono).
Velocity switching.
Pitch and panning for each instrument.
ADSR envelope per pad.
Integrated BitCrusher.
Also available in the XXL pack which adds 3 sound CD-ROM's by Wizoo as well as the classic Bitbeats "XXL Compilation".
The LM•4 Mark II XXL version offers 120 drum sets covering all musical styles imaginable.
The soundbanks can only be loaded via the scripts, because they were actually developed for LM4 Mark I.