iZotope Insight 2 v2.0.0 REPACK-R2R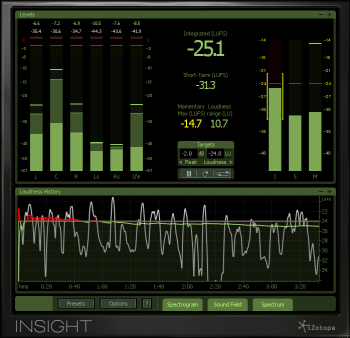 Team R2R | Nov 02 2018 | 33 MB
Insight is a metering suite for post production and broadcast applications. It provides a full suite of audio analysis and metering tools, perfect for visualizing changes made during the mixing process, troubleshooting problematic mixes, and ensuring compliance with broadcast loudness standards. Fully customizable and scalable, Insight allows audio engineers to visually monitor all relevant information from a mix in a convenient floating window, empowering users to look deeper into their audio with intelligent analysis tools and real-time monitoring capabilities.
Key Features:
Immediately detect potential mix problems through real-time visual monitoring and color-coded alerts.
Ensure audio is fully compliant with current loudness standards with forward-thinking tools that adhere to standards like BS.1770-1/2/3, then document adherence with an exportable log or graph.
Perform deep and flexible analysis with zoomable meters and the ability to route audio from any tracks or buses to Insight.
Design your ideal metering view by choosing the meters you want to see, customizing them, and resizing the Insight window to fit your current workflow.
Get an extensive suite of metering tools in a single plug-in, including True Peak Meters, Loudness Meters, Loudness History Graph, Stereo Vectorscope, Surround Scope, 2D/3D Spectrogram, and Spectrum Analyzer.
REPACK : VST3 64bit installation has 32bit DLL in the previous package.