iZotope Insight 2 v2.00-R2R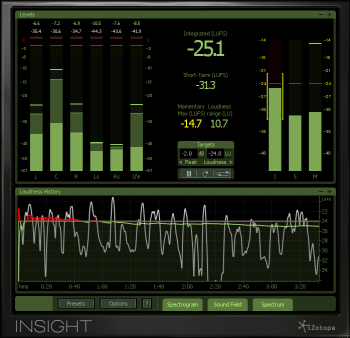 Team R2R | HAPPY HALLOWEEN | 38 MB
Insight is a metering suite for post production and broadcast applications. It provides a full suite of audio analysis and metering tools, perfect for visualizing changes made during the mixing process, troubleshooting problematic mixes, and ensuring compliance with broadcast loudness standards. Fully customizable and scalable, Insight allows audio engineers to visually monitor all relevant information from a mix in a convenient floating window, empowering users to look deeper into their audio with intelligent analysis tools and real-time monitoring capabilities.
Key Features:
Immediately detect potential mix problems through real-time visual monitoring and color-coded alerts.
Ensure audio is fully compliant with current loudness standards with forward-thinking tools that adhere to standards like BS.1770-1/2/3, then document adherence with an exportable log or graph.
Perform deep and flexible analysis with zoomable meters and the ability to route audio from any tracks or buses to Insight.
Design your ideal metering view by choosing the meters you want to see, customizing them, and resizing the Insight window to fit your current workflow.
Get an extensive suite of metering tools in a single plug-in, including True Peak Meters, Loudness Meters, Loudness History Graph, Stereo Vectorscope, Surround Scope, 2D/3D Spectrogram, and Spectrum Analyzer.
HAPPY HALLOWEEN!

Due to the change of iLok deal in iZotope products, we haven't released
new products for years. That "AuthAssistant.exe" is dropped and all iLok API
call is included in the plugin itself, which means emulator is not a possible
attack anymore.

Although cracking iZotope is not a difficult job, we took a time to make it
"better" in many meanings, just install and enjoy :)

- Simplified custom installer
- Pre iLok Authorization without iLok driver
- Seperate component installer (No installation collision like orignal)
- No installation info disappearing like original
- Better compression than original
- Faster installation than original
You CAN mix new R2R releases with others, but NOT RECOMMENDED, since new
iZotope installer has some issues we listed above. You should install R2R
releases only, to take the best advantage.

If you want to clean up old iZotope releases before starting installing new
R2R releases,

1. Uninstall ALL iZotope products
2. Delete RegKey HKCU\Software\iZotope
3. Done, let's start clean iZotope life and
Stay away from official installers.


Because we don't use official installer nor iLok integration, we won't
release minor change updates for iZotope products.

v2.00 -> v2.01 - We take care
v2.00 -> v2.00b - We won't because not affected

In other words, you can ignore those official minor change if you use R2R
releases. If updated is needed by minor changes, we take care in that case.
download from free file storage