Bakuage BasicComp v1.1.4 x86 x64 VST VST3 WiN [FREE]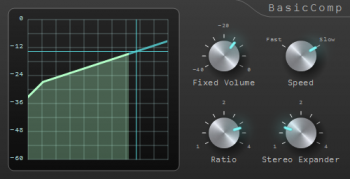 x86 x64 VST VST3 WiN, 4 MB
BasicComp is high-quality VST compressor plugin that is focused to compress dynamic range naturally.
It is suitable for mastering, vocal track, and drum track.
Please copy BasicComp.vst3 and BasicComp64.vst3 to the following location.
C:\Program Files (x86)\Common Files\VST3\BasicComp.vst3
C:\Program Files\Common Files\VST3\BasicComp64.vst3
If your DAW doesn't support VST3, please copy BasicCompVst2.dll and BasicComp64Vst2.dll to the following locations.
C:\Program Files (x86)\VstPlugins\BasicCompVst2.dll
C:\Program Files (x86)\VstPlugins\BasicComp64Vst2.dll
download from free file storage