XLN Audio Metal Songs for Superior and EZ Drummer MIDI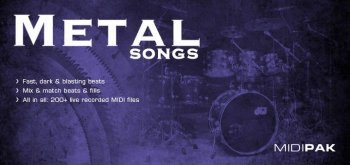 MIDI | 140.05 KB
Metal mayhem has never come so close to perfection! Bring out the darkness in you, and sell your soul to the grim reaper.
Included are 20 Metal Songs and a large number of blasting Metal Fills adding up to a total of 200 heavy hitting MIDI files. All the grooves were recorded by a real drummer and the songs and fills are all in different lengths and tempos so you can find the perfect match for your music. Of course you can also edit the tempo in your host.
The songs are divided into different parts to help you find what you are looking for. The fills have been extracted from the songs so you can use them in other arrangements as well.
Dust off your battle hammer and put on your leather pants - This is the Metal Songs MIDI Pak!
All Files have been translated for use with Superior\EZ Drummer.
These files were translated as part of a project. The velocity should be 'tweeked' to suit individual purposes.
I thought that some people may find a use for them and if so then great.
I plan to do a much more in depth mapping in the near future and if people find them useful then will post them. Hope they of some use.