Soundtrack Loops Galaxy Gunslinger III The Final Battle WAV-FANTASTiC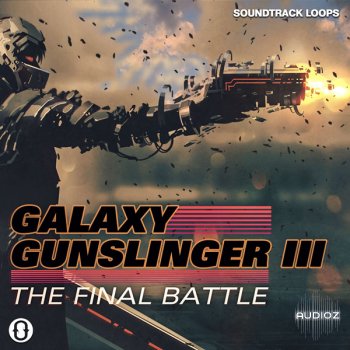 FANTASTiC | 16 October 2021 | 283 MB
Soundtrack Loops presents Galaxy Gunslinger III -The Final Battle. Galaxy Gunslinger Vol. 3 is the third and final drop of the Belibat-produced Galaxy Gunslinger series, and now we have a unified trio of great tools for scoring and beatmaking.
Vol. 3 is like a celebratory deep dive into everything that makes the first two so cool—for us, this means even grander orchestral gestures, and even more hard-driving tribalism and in-your-face synth-driven figures. Six instrument folders (drums, strings, horns, woodwinds, synths, and effects) are loaded with 69 loops in all, and as usual we have a one shots folder with a focus on impact sounds and attention-grabbing zingers. The Belibat vibe is a rare thing—it reflects an innate artistic ability to connect the dots in 20th century music forms and bring them into play at contemporary levels that really make you smile.
Belibat's blending of orchestral and electronic music forms, and on a deeper level, his own complete and (ever so gently) ironic take on the styles of the day, all serve to enhance the imagery of it all. Part of the skill is understanding the music, and the other part is understanding the culture—then and now. Belibat gets it, so the Galaxy Gunslinger trilogy is kind of timeless that way—after all, what is history if not epic progressions, heroism, massive propulsion, suspense, some tension, some release, and screens full of amazing imagery?
As standard practice for all loops created by the Soundtrack Loops team, Key and BPM are tagged in both metadata and file names.
download from free file storage