Alden Nulden Productions T-01 Synthesizer Lite KONTAKT [FREE]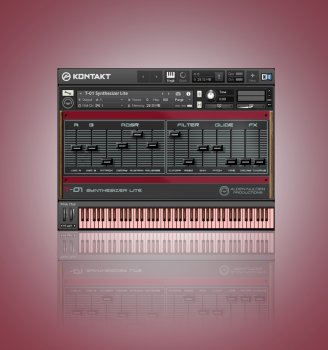 KONTAKT | 35.38 MB
T-01 Synthesizer is an instrument library of Alden Nulden Productions for Native Instruments Kontakt 5.
It is suitable for music composition for Electronica, Trance, House, Techno , EDM, etc.
T-01 Synthesizer Lite is an analogue synthesizer. It has two oscillators.
The first is Saw waveform, and the second is a blend of Sine and Saw waveform.
It's a very simple synthesizer to use and calibrate it.
It has eleven sliders because we like to keep it simple.
It has ADSR, LP Filter, Pitch Envelope and Glide.
As well as 241 samples at 16bit and 44100Hz and 7 presets.
Also, an init instrument is available, enabling you to make your own sound and save it as well.
T-01 Synthesizer Lite is a light version of T-01 Synthesizer and it's a free instrument.
T-01 Synthesizer Lite needs a full version of Kontakt and works from 5.5.0 and above.