Spitfire Solo Strings KONTAKT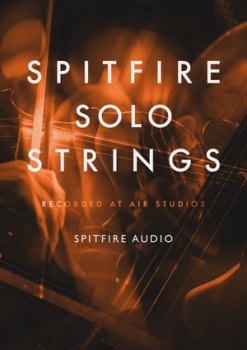 KONTAKT | 40 GB
Sometimes you need the intimacy and detail of a single voice to rise above the force of an orchestra. Reach for Spitfire Solo Strings – the all-new accompaniment to your Symphonic and Chamber arsenal, featuring exceptional first-call London virtuosos.
Solo Strings is designed to stand out, but also to fit in: this entirely new library sits perfectly alongside the Spitfire orchestral ranges, utilising the same location, peerless signal chain, mic positions and range of articulations that make up the DNA of our high quality orchestral packages. Single players in the acoustic luxury of the hall at Air Lyndhurst, captured on rich sounding 2" tape.
Solo Strings
Six years ago, Spitfire released Solo Strings, one of our first ever libraries. Since then, we have clocked up over 2,500 hours of sampling experience, so we knew it was time we revisited these essential instruments. They can add individuality and definition to big string writing, as well as capture soaring solos, whether for film, games or pop music. Think of the solo violin in John Williams' score for Schindler's List, Fratres by Arvo Pärt, John Corigliano's Red Violin, or the cello carrying the Game of Thrones theme.
Total Performance
We are proud to announce the inclusion of our brand new, highly intuitive Violin (Virtuoso) Total Performance patch, offering you the most detailed and complete solo performance for the virtuoso violin. Performed by world-renowned virtuoso concert violinist Jack Liebeck, this performance patch is our most advanced and powerful to date. It contains all the techniques you need to create a realistic solo performance — five different types of true legato: Portamento Legato, Fingered Legato, Bowed Legato, Runs and Arpeggios. It also features: spiccato, staccato, tremolo, molto vibrato, progressive vibrato and non vibrato. — all combined together to enable musical phrasing without the need for key-switching, and programmed to react to playing speed and touch. This patch is easy to play and ultra-intuitive, allowing you to focus entirely on your composition, without the need for 'stitching' together performances.
* Requires KONTAKT v5.6.8 or higher
** Tested with KONTAKT v5.7.3

Reuploaded. PiRAT