Udemy Learn ''FREE-STYLE'' PIANO and play any song INSTANTLY TUTORiAL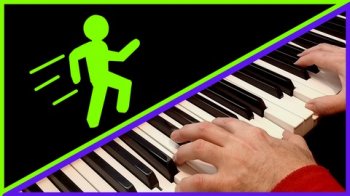 P2P | 17 July 2022 | 1.67 GB
Playing its favorite piano songs ''instantly'' is a goal that every pianists aspire to do. But very few of them reach this level unless they have practiced piano for 20 years and even more.
In fact, as you know, most pianists have to practice for several weeks and sometimes months before they can play just one of their favorite songs.
The main reason is because they have to read many notes in a clef for the right-hand while they have to read and play as many notes in the left hand. And additionally, in a different clef.
And what can be frustrated for a beginner or an intermediate level pianist, is that all its favorite songs scores found in musical stores or on the internet are not always adapted for his level.
This course is intended to give you the basic tools to play piano like your favorite singers' pianists or your favorite piano pop pianist: by reading and playing freely the melody and the chord symbols.
Playing a piano song without having to read the notes on the Bass clef (F clef) staff but only have to read the song melody and chord symbols is surely the quickest and easiest way for learning a piece.
And that's what this course is about.
The ''melody + chord symbols'' system allows to play any song in a few minutes or hours (max.).
That's why piano players, even mid-beginners, can learn and play many of their favorite songs in a couple of days with this system.
This course will teach you step by step, how to achieve this goal.
How?
Each lesson has a new ''technique'', which is explained and demonstrated on the piano and it also has a practice section at the end to make sure the technique is well understood.
Once you will have practice the technique with many of your favorite songs, the technique will become assimilated in your brain and ''muscles memory'' and after a while you will be able to play it with any other song ''instantly', just by reading its melody and by applying the technique to its chord symbols.
Then after you will have learned, practiced and assimilated all the other patterns individually, you will learn how to put and choose some of these patterns and techniques together to make simple but nice personal versions (arrangements) of your favorite songs.
And after a while you will be able to use them instinctively, just by reading their melodies and chords instantly or after a few minutes of trying.
That's what is call ''Free-style piano playing''.
You'll choose the patterns and techniques according to your level. That's why with this system you will be able to play all your favorite songs, even after the first lesson.
Obviously, with the first lessons, your versions will be a little simple but gradually they will become more and more pretty and interesting.
So, choose some of your favorite song scores, sign up and let's get started!
What you'll learn
•Basic techniques for playing any song instantly with chord symbols
•Left-hand patterns to accompany right-hand (melody)
•Techniques to embellish the melody
•Techniques to improve the arrangement by connecting consecutive chords smoothly
•To adapt the free style techniques for any chord duration or time signature
•To play any of their favorite pop songs instantly with basic left-hand techniques
download from free file storage