Groove3 FL Studio Beginners Guide TUTORiAL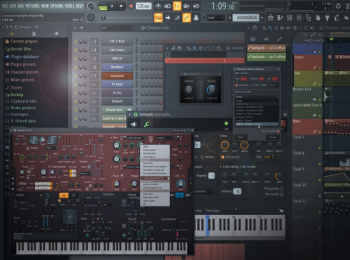 HiDERA | 4 September 2020 | 456 MB
Tyler Coffin presents in-depth FL Studio video tutorials! If you're a new FL Studio user, these videos are just what you need. Learn the important basics so you can make your first beat with FL Studio, the most used features and functions, all the way to exporting your new song and much more.
Tyler welcomes you and goes over what the course will cover and what you'll learn throughout the videos. He then starts with the important basics like how to get up and running and set and configure your system and hardware, as well the user interface and how to control it with a typical mouse and keyboard, or more advanced hardware controllers and touch controls.
Next, learn all about the main sections of FL Studio like the Channel Rack, Step Sequencer, Browser, and the Plug-In Picker. Then it's on to the Piano Roll editor, how to create your own patterns, use the powerful mixer, and how to utilize the Playlist function to build structures of songs and music.
Tyler also explains and explores how to record and edit both MIDI and Audio, create and use automation for complete control over your sound, customize your workspace to better fit your production style, breakdowns of various plug-ins and effects, as well as a tour of additional tools and helpers that are crucial to using FL Studio.
To see what these comprehensive FL Studio videos show you, and how they'll get you up and running fast with FL Studio and start producing your tracks and beats, see the individual FL Studio tutorial descriptions on this page. Get going with FL Studio now and see why so many call it the best DAW ever... Watch "FL Studio: Beginner's Guide" today.