Skillshare Fundamentals of Music Theory Notes, Scales and Chords TUTORiAL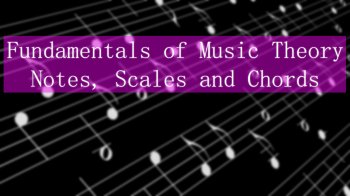 FANTASTiC | 26 March 2019 | 334 MB
Did you know that reading notes is very easy? Did you know that by learning a few fundamental rules of music theory, you too can compose your own songs?
If you want a concise and straight to the point course of music theory, look no more! Whatever your musical level is, this class is for you. Together we will learn in depth about these 3 following sections:
1.Notes
2.Scales
3.Chords
which constitute the fundamentals. From there, you will grasp some basic concepts that will allow you to go further in your musical journey.
Project Description
For this class project I have chosen a very famous Mozart piece "Rondo Alla Turca" written for the piano.
I want you to decode and read it. You can simply download it and write anotations over the pdf file, save it and then re-upload it for me to check.