Udemy - Logic Pro X Quick Start: Producing with Logic Pro X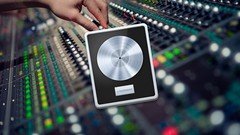 ilfsn | 2H 45M + Project File included | 2.28 GB
In this class we will focus on the newest Logic Pro X software. Some people like to think of this as "Garage Band Pro", and it many ways it is. But there is a lot more to it than that. Logic Pro X is a full-featured program, but it isn't without it's limitations. I'll walk you though what those are, some ways you can deal with them, and how to use the program to produce and/or record your music.
In this class, we will cover:

Spoiler:
And of course, once you sign up for Logic Pro X you automatically get huge discounts to all the upcoming parts of this class, and all my other classes.
You will not have another opportunity to learn Logic Pro X in a more comprehensive way than this.