Shoogle Studios Echoplex Techno Masterclass TUTORiAL-SYNTHiC4TE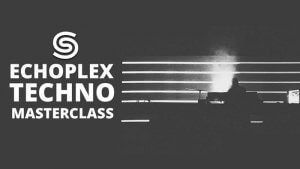 SYNTHiC4TE | Feb 11 2017 | 3.45 GB
An Up To Date, Inside Guide To Techno Production
Do you dream of leading the Techno resurgency? Get ahead of the game and make this genre your own. In this 3+ Hour Techno Production Masterclass, veteran techno producer Echoplex Echoplex (Synewave / IMF / M_nus) lays out the intricacies of the genre for your learning pleasure.
The struggle is real but it really doesn't have to be, learn how to get beyond that amazing loop; how to create thumping kicks and intense effects; how to use synthesis and sampling techniques to create new sounds for your tracks and much, much more.
Course Overview
Covering sampling and synthesis techniques, sound design, arrangement techniques and so much more, join Peter Echoplex as he takes you through all the techniques you need to finish tracks.
Ever got stuck with an incredible loop and don't know where to go with it? That's what this is all about. Uncover the psychology of getting things done, extensive music production techniques and tips and tricks for breathing life into your underground electronic explorations.
At more than 3 hours in length, this class sees long-time techno producer Echoplex (Synewave / IMF / M_nus) starting with a loop and fleshing out a complete track. He goes into detail with proven techniques and processes that he uses to flesh out a full track in a matter of hours rather than days / weeks / months.
With his funny, approachable style and invaluable industry insider advice and experience, this Echoplex Masterclass is guaranteed to inspire you to stop thinking about making music and just do it.
download from free file storage