An Introduction to Modern Music Creation: Music Composition and Production with Technology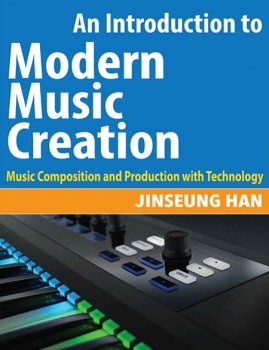 English | 2019 | ASIN: B07MBV9BKK | 222 pages | 2.24 MB
This book is for all musicians–student, teacher, professional and hobbyists–pursuing a musical achievement in any form or level. The main theme of this writing focuses on how composers adopt new computer software technology in their music composition, which rest of other composers–and performers as well–can benefit from.
Based on an in-depth analysis of music composition with music technology, this book illustrates how music composers adopt music technology in their music composition and production.
The author has interviewed six composers, who were professional composers actively composing in various music genres, interestingly revealed the secrets of how some features and functions of computer software are used in their music production. The details of the music creation process and advantage are also covered: kinds of software feature and their usage for certain compositional technique, including MIDI recording and editing, and sampling and sample editing. The author addresses using MIDI data as performance, and sampling and remixing as an instrumental arrangement, rendering on actual musical examples from the various music repertoires.
Several music creation workflows are explained in detail for practical adoption of the features and functions of computer music production software currently available. This book aims to finally release composers, who are stuck in lack of musical ideas, to freedom of new musical opportunity, a journey to a new era of computer-based electronic music.
If you are looking for a new solution to your new musical ideas, this book will guide you to them as other professional composers do.