All About Music Theory: A Fun and Simple Guide to Understanding Music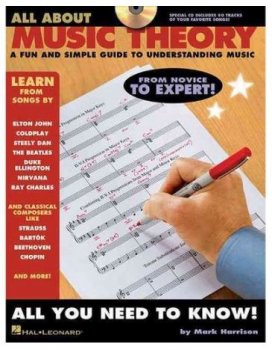 English | Publisher: Hal Leonard, 2009 | 217 Pages | djvu | 2,6 MB
If you wish there was a fun and engaging way to help you understand the fundamentals of music, then this is it. Whether it's learning to read music, understanding chords and scales, musical forms, or improvising and composing, this enjoyable guide will help you to finally start understanding the structure and design of music.

This fun-filled, easy-to-use guide includes: * Music notation * Scales and modes * Melody harmonization and counterpoint * Chord progressions * Song form and structure, 50 popular songs such as: Beauty and the Beast * Candle in the Wind * Imagine * In the Air Tonight * Killing Me Softly with His Song * Let It Be * Message in a Bottle * Misty * Satin Doll * Take the 'A' Train * Unchained Melody * What'd I Say * and more!