JTC - Guthrie Govan The Oracle Volume 2 MP3 PDF and Powertab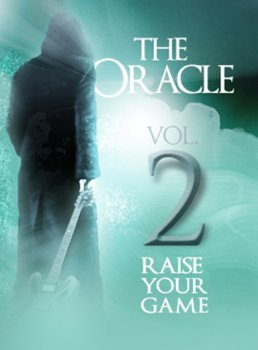 P2P | Jan 26 2017 | 50 MB
It has been said that this man of mystery shuns the public eye due to his displeasure of once being given a Knighthood and lands by the Valyrian King, only to have them stripped from him after a four day bender in which he was overheard to have referred to 'his Grace' as a pompous oaf and a nincompoop.
Having now, no title, no home and the mother of all hangovers, he re-titled himself 'The Oracle'. This was witnessed by a small orphan child who happened to be pulling on his trouser leg at the time asking for "A Groat for a cuppa tea please Mister?'.
Nevertheless, his secret knowledge of the electric guitar knows no boundaries, so he has returned once more to JTC headquarters with cap in hand trading licks for party packs of booze. His lessons are like no other, and will transform your playing into a stratosphere that you will never have imagined possible!
In Series 1, The Oracle bust you out of that lick rut....now he will help you Raise Your Game!
As ever, we have included everything you need to practise and perfect the material in this package. There are vaudio tracks for you to watch/listen and study, accurately transcribed TAB/notation for you to analyse and master as well as backing tracks for you to practise every lick to, and jam out your own solos! We've even included some text notes to help you really get these parts down!