Groove3 Studio One 5 Updates Explained (01.2022 Update) TUTORiAL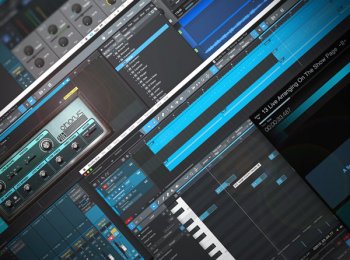 HiDERA | 15 January 2022 | 441 MB
Eli Krantzberg presents comprehensive Studio One video tutorials! Learn all about the new features and functions added to the 5.2 update so you can use them effectively and creatively. Keep up to date and get the most out of this amazingly powerful DAW. These videos are for those who are already familiar with Studio One 5, but want to know about the new features added to version 5.2. If you are completely new to Studio One 5, check out Studio One 5 Explained® here.
Eli greets you and starts at the beginning with a video on the new Arranger Track Sync Mode settings which are used for smooth synced rearranging of the playback order based on the Arranger Track sections in your song. Then you'll learn how to use the updated Arrow Tool to edit note velocities, mute/unmute events, split note events, split note events and their part container, as well as glue adjacent notes together.
Next you'll explore the Splitter Plug-In which is now a powerful mixing plug-in that lets you route multiple audio effects on a single channel either in parallel, serial, left/right split, or frequency band splits. Eli then covers the changes made to the Score Editor, including the new guitar tablature functions, drum notation, and the new Voices Icon and Send to Voices function.
Throughout the rest of the videos you learn all about Sound Variations which help you get the most out of the complex articulation setups in virtual instruments and orchestral libraries, Sphere Workspace Collaboration, Audio Clip Versions, live arranging in the Show Page, new Safety Options and much more!
To see what these in-depth Studio One 5.2 tutorials show you, and how you they'll get you up to speed with everything that's new in the Studio One 5.2 update, see the individual Studio One video descriptions on this page. Get the most of Studio One 5 and use it to its full potential now... Watch "Studio One 5.2 Update Explained®" today!
download from free file storage