Overloud TH-U SuperCabinet Content-R2R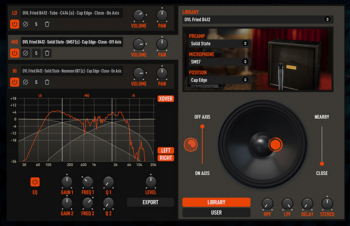 Team R2R | 2021.10.17 | 229.95 MB
The revolutionary cabinet IR processor with the biggest IR collection ever
SUPERCABINET: IR PROCESSING REDEFINED
The SuperCabinet is the revolutionary IR processor, based on Overloud's Fluid Convolution Technology, which allows to create cabinet tones in a way that has never been possible before.
Graphically browse the IR libraries
Access one of the largest high resolution IR collections ever created!
Compose your cabinet tone with the unique multiband mode
Be creative: blend multiple IRs and monitor the result
Create huge stereo guitar tones
Make it part of a TH-U preset or...
... export the final IR and load it into your hardware modeler