Kuassa Amplifikation Caliburn v1.0.6 Incl Patched and Keygen (WiN and OSX)-R2R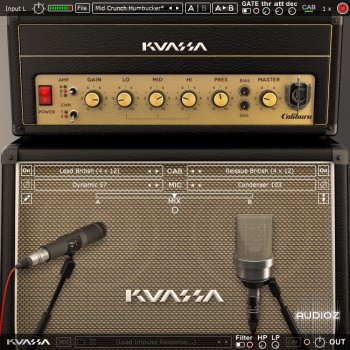 DATE : 2019.10.22 | NUMBER : R2R-8413/8414 | SiZE : 57.8 MB/54.7 MB
PLATFORM : WiN32/64 - EXE/VST/VST3/AAX(MODiFiED) | MacOSX - APP/AU/VST/VST3
Amplifikation Caliburn is our most realistic amp simulator (yet)
We are confident to say that this is our best amp yet. It's inspired by Britain's Marshall* Amps crafted using our most current, 3rd generation, modeling technology, resulting in a satisfying responsive feel, more dynamic guitar playing experience you'll love.
Key Features:
3 amp types, taken inspiration from Marshall JTM45, JCM800, and JCM900 Master Volume.
2 channels for each amp: Clean and Lead.
Power amp Sag and Bias feature.
Five types of cabinets with Celestion speakers:
High pass and low pass filters.
Seven types of workhorse mics: Shure SM57, Sennheiser MD421, Sennheiser MD441, C&T Naked Eye, Royer 121, AKG C414, Neumann * TLM103.