SuperWave Stylophone v1.4 x64 x86 VST WiN [FREE]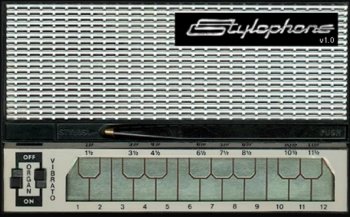 x64 x86, vst win, 7mb
Over 40 years old, the Stylophone pocket synthesizer made popular by the likes of Rolf Harris and David Bowie (as used in the timeless classic Space Oddity) is now available in VSTi format.
The Stylophone has been used by many great artists such as Jean Michel Jarre, Kraftwerk, Erasure, Orbital, Marilyn Manson, They Might Be Giants, White Stripes and Little Boots. The Stylophone is a monophonic synthesizer with one sound only, with the option to add vibrato enhancement.
The Stylophone VSTi has a sample based oscillator using samples recorded from an original Stylophone, not the modern reproduction model. All samples were recorded using a high quality microphone from the Stylophone speaker output for the most accurate sounding emulation.
Technical Specifications
Oscillators
1 Sample Oscillator
Samples: 20 Multi-Samples (Looped sample for each key)
Waveforms: Saw
Amplifiers
1 Amplifier
Response Curve: Exponential
Envelopes
1 Envelope
Fixed Values: Attack, Decay, Sustain, Release
Low Frequency Oscillators
1 LFO
Waveforms: Sine
Controls: Vibrato
Other Features
Monophonic operation
On/Off switch
2 high quality presets
800 MHz+ Processor recommended / 1024 x 768 pixels screen resolution / 24 bit colour depth