Infected Sounds KickOne x64 x86 VST WiN [FREE]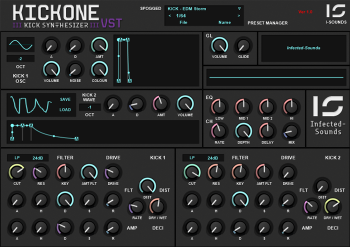 27.08.2019 | x64 x86 VST WiN | 7 MB
VST Kick Instrument synth with 1 oscillator with noise and colour and 32 waveforms, also 1 oscillator with wavedraw.
2 kick envelopes and 2 multi envelopes and octaves for each kick, 2 filter envelopes also 2 amp envelopes and it got 2 filters with env control, and also there is an porta, very handy for fast sounds, 64 Presets.
EFFECTS:
Equalizer, Chorus. Double Overdrive, Double Distortion, Double Decimator.