Steinberg VoiceMachine v1.0.VST-OxYGeN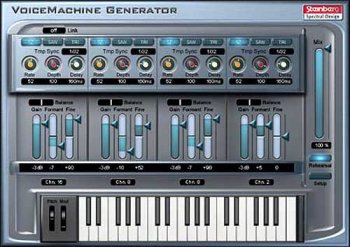 Team OxYGeN | 16th Sep 2001 | VST x86 | Size: 5 MB
Steinberg/Spectral Design's VoiceMachine - Real-time vocal pitch transformer units
VoiceMachine consists of two new real-time voice effect tools for VST.
The VM Generator allows you to work with your voice in the same way that
you would use an instrument. This way a layout for a backing choir can be
created in minutes, reducing recording time to a minimum. The VD Generator
creates up to 4 additional voices by simply triggering them via MIDI Note
On/Off events in real-time. Your vocal arrangements can be easily played
alongside your lead vocal. Just use your keyboard or draw in your MIDI
note events in your favorite VST sequencer program. The VM Processor lets
you either change the melody or simply correct the intonation by changing
the pitch of a voice while maintaining its natural character.
Features:
=========
* Real-time natural pitch shifting (no 'singing rodent' effect)
* Independent control of pitch change and voice character
* Up to 4 additional voices out of a monophonic voice track (VM Generator)
* Triggered via MIDI Note On/Off
* LFO with different waveforms and delay for vibrato simulation
* All parameters can be addressed via definable MIDI controllers
* Smoothing intonation problems in vocal recordings (VM Processor)
Read NFO here