Harvest Plugins Harvest Mini x64 VST WiN MAC [FREE]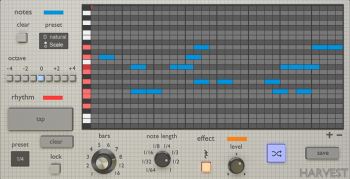 x64 vst win mac, 7mb
MIDI Loop Generating Plugin, Unlimited Melodies, Chord Progressions and Drum Loops
Generate melodies, chord progressions, and drum beats using Harvest Mini! Control your VST instruments and create randomized sequences.
Tap custom rhythms or randomize them. Choose from a list of preset scales and chords.
Why Harvest Mini?
unique workflow for writing music.
kick start your next project.
get unstuck.
Features:
Preset Note Selection.
Octave.
Tap Rhythms.
Preset Rhythms.
Randomize Rhythms.
Interactive Piano Roll.
Number of Bars (max 16).
Note length.
Chance of Rest.
Save.
Important Note
Tested on Ableton and FL Studio only (for now!)