u-he Hive v1.2.1.8296 CE-V.R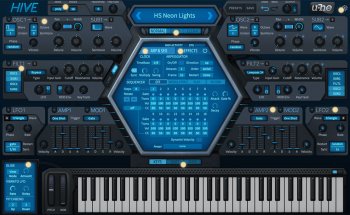 Team V.R | 22 February 2019 | 282 MB
Hive: lightweight synth, heavyweight sound. Sleek, streamlined and super fast. Hive was built for speed. An effortless workflow, low cpu use and a single page interface means you can build your tracks in no time. Being 'fast and simple' does not mean sacrificing sound quality or creative control. Hive is packed with features, controls and enough flexibility to deliver stunning sounds. A lightweight synth with a heavyweight sound.
cpu-friendly va synthesizer
Single page design
Each panel offers presets in a drop-down menu
Solo buttons for each oscillator and filter panel
Skinnable ui
Over 2700 factory presets
On-screen keyboard
Requirements:
Windows logo Windows XP/Vista or newer
Formats:
Hive is not a standalone product, it requires host software. Hive is compatible with nearly all daws.
Avaliable as Audio Units (au), vst2, aax (Pro Tools 10.3.7 or later) plug-ins with 32-bit and 64-bit versions.
Key Features:
⦁ - modern VA synthesizer with streamlined workflow and low CPU hit.
⦁ - choice of 3 different synth engines (character modes)
⦁ - 16 x unison oscillators, analogue models or 2D wavetables
⦁ - multimode analogue-model filters
⦁ - effect parameters can be modulated by LFOs, envelopes etc.
⦁
Changes in version 1.2
- 2D wavetables implemented, .wav or .uhm (scripts)
- added 4 X/Y controls with automapping of macros
- added mod matrix modifiers (curve, quantize, rectify, slew)
- smoother 'Wet' modulation for the Chorus and Phaser
- replaced previous init sound
- fixed various minor bugs
Hive 1.2.1 maintenance update

Hi everyone,

we are about to release a small maintenance update for Hive.

Besides the issue which led to some wavetables not loading on certain Linux machines, we fixed some more glitches in the wavetable section.
Scripts will now automatically reload when you edit and resave them.
And the wavetable hexagon should display error messages if there is something wrong in the code section of the wavetable file.
Last but not least, we finally found out what caused those clicks in the left channel when using odd buffer sizes and certain audio interfaces.

With all those fixes, we thought it might be good to give you a sneak peek prior to the official release, so you can check if the bugs are really fixed, and nothing else got broke.
FileHost Included
Uploaded | Rapidgator | Rockfile | Uploadboy | Katfile