iZotope Neutron 2 Advanced v2.01-R2R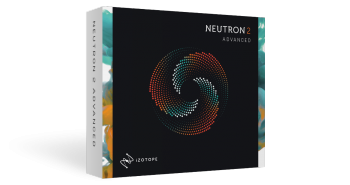 DATE : 2018.10.31 | NUMBER : R2R-7337 | SiZE : 100.81 MB
PLATFORM : WiN32/64 - EXE/VST/VST3/AAX
Achieve a clear, well-balanced mix with Neutron's innovative new mixing and analysis tools. Control every aspect of your music, from the visual soundstage of your tracks to the tonal balance of your mix—all with iZotope's award-winning digital signal processing.
Tonal Balance Control
The new Tonal Balance Control plug-in introduces industry-first visual analysis and communicates with all instances of Neutron so you can shape a perfectly balanced mix. Instantly call up any Neutron EQ and adjust your tracks to targets based on hundreds of professional mixes. You can even create your own custom targets from one or more songs in your personal library.
Visual Mixer
The new Visual Mixer creates a picture of the entire soundstage, giving you control over individual tracks and enabling you to quickly and intuitively set the contour of your mix—all without leaving the window. Control the pan, gain, and width inside of Neutron so your mix sounds exactly how you intended.
Masking Meter
An industry first, Neutron's Masking Meter allows you to visually identify perceptual frequency collisions, which can result in guitars masking lead vocals, bass covering up drums, and other issues that can cause a "muddy" or overly crowded mix. Toggle seamlessly between any two tracks to carve out sonic space and ensure that each instrument has its own place to shine
Improved Track Assistant
Another industry first, Neutron's updated Track Assistant lets you create a custom starting point based on your audio so you can focus on what's most important—your creative take on the mix. In version two, we've made improvements including the ability to set auto-release, ratio and attack on the Compressor, piano instrument detection based on machine learning, and more.

HAPPY HALLOWEEN!

Due to the change of iLok deal in iZotope products, we haven't released
new products for years. That "AuthAssistant.exe" is dropped and all iLok API
call is included in the plugin itself, which means emulator is not a possible
attack anymore.

Although cracking iZotope is not a difficult job, we took a time to make it
"better" in many meanings, just install and enjoy :)

- Simplified custom installer
- Pre iLok Authorization without iLok driver
- Seperate component installer (No installation collision like orignal)
- No installation info disappearing like original
- Better compression than original
- Faster installation than original


You CAN mix new R2R releases with others, but NOT RECOMMENDED, since new
iZotope installer has some issues we listed above. You should install R2R
releases only, to take the best advantage.

If you want to clean up old iZotope releases before starting installing new
R2R releases,

1. Uninstall ALL iZotope products
2. Delete RegKey HKCU\Software\iZotope
3. Done, let's start clean iZotope life and
Stay away from official installers.


Because we don't use official installer nor iLok integration, we won't
release minor change updates for iZotope products.

v2.00 -> v2.01 - We take care
v2.00 -> v2.00b - We won't because not affected

In other words, you can ignore those official minor change if you use R2R
releases. If updated is needed by minor changes, we take care in that case.