FXpansion Cypher 2 v2.4.8.0 Incl Patched and Keygen (WiN and OSX)-R2R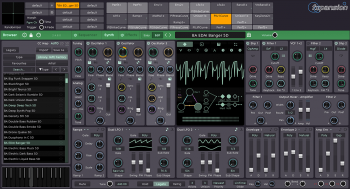 DATE : 2018.08.11 | NUMBER : 7043/7044 | SiZE : 7.7 MB/8.9 MB
PLATFORM : WiN64 - EXE/VST/AAX(MODiFiED) | MacOSX - APP/AU/VST
Cypher2 is designed for deep sonic exploration and expressive performances. It features a vast range of sound design tools and over 1300 sounds, including 500 MPE-optimised presets. Experience an unparalleled level of expression through analogue-modelled oscillators, waveshaping and thru-zero FM. Our signature TransMod modulation system, now upgraded for Cypher2, ensures that every session with this premium synthesizer is a sound design adventure.
Cypher2 features:
•Modulate the master sequencer with 3 mod sequencers and an expanded control matrix
•Improved interface with real-time animated modulation, full signal flow visuals and preset descriptions
•Default MIDI CC mappings for both 2D and 5D controller types
•6 circuit-modelled filter types, each with a varied set of responses, including a comb filter model with 8 comb types
•Scalable interface for 4K/retina screens with a variety of themes
•LFOs are expanded with clock-divided sub-LFOs for synchronisation or free-running modulation
•Updated envelope shapes for precise control
•Feed your creativity with preset morphing and randomisation
•Support for microtonal Scala .TUN files
None of the Windows FXpansion releases by other group(s) are properly cracked
for last 5+ years.