IK Multimedia T-RackS 5 Complete v5.0.0 FIXED KEYGEN ONLY-R2R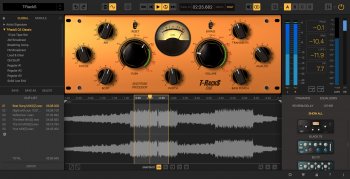 Team R2R | Nov 08 2017 | 619 KB
T-RackS 5 is said to be the most powerful modular mix and master system ever, offering incredible versatility with 4 all-new processors for a total of 38 high-quality modules.
The new version includes a new completely redesigned, resizable interface in a flexible 16-processor series/parallel chain with an unrivaled audio engine, a complete broadcast-ready professional metering section, as well as an album assembly section with multi-format export.
IK Multimedia has led the way in mixing and mastering software since it created T-RackS in 1999, evolving and expanding the collection while setting an industry standard for some of the world's best sounding plug-ins for professional applications. It's no coincidence that thousands of top-charting records have been made using T-RackS.
Now T-RackS 5 has been re-mastered to be more powerful than ever, providing everything necessary to take raw mixes to a perfect finished product ready for digital delivery or CD duplication.
T-RackS 5 features
4 new processors (Master Match, Dyna-Mu, EQual, ONE).
Completely redesigned, flexible and resizable interface.
Ultra-rapid, flexible and smooth workflow.
A total of 38 high-end modules: available à la carte or via carefully selected bundles.
Unique modular chain system with 16 series/parallel slots.
Improved audiophile-grade audio engine.
Up to 192kHz / 32-bit floating point processing capability.
4 optimized user-selectable dithering options.
Extensive calibrated metering for multi-standard, broadcast-ready and future proof masters.
Album assembly with sequencing and metadata embedding.
Multiple file format export function.
64-bit native support.
Standalone workstation, plugin suite and single plugins for Audio Units, VST2, VST3 and AAX formats.
Requires macOS 10.7 / Windows 7 or later.
FIXED : Classic EQ causing periodical noise. IK added another check only for
that EQ or they just forgot to add the value to main check. Anyway,
it's fixed.
download from free file storage