Zero-G Sounds Of Polynesia v1.0 VSTi DXi RTAS DVDR-AI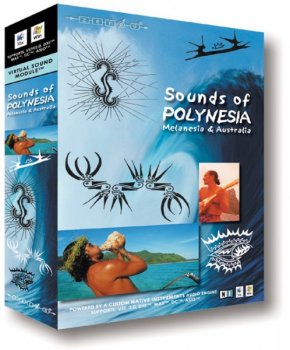 Team AI | 07-20-2004 | 984.38 MB
SOUNDS OF POLYNESIA is a wonderful and unique virtual instrument for everyone who would like to discover the rich sounds of the South Pacific and use them in their music. The sample library was produced by Airileke ('Airi') Ingram who recorded a host of indigenous instruments. There are also village ambience tracks from Airi's village Gabagaba in Central Province of Papua New Guinea and Munum village in the Morobe Province, and spoken and chanted vocals. Most of the instruments featured in this amazing product come from Papua New Guinea ('PNG'), a nation in the western region of the South Pacific Ocean, to the north of Australia. It is one of the most culturally diverse countries in the world with over 800 languages and over 3000 dialects!
The whole of this remarkable library is presented within a stunning new state-of-the-art plug-in interface by NATIVE INSTRUMENTS which is a version of their INTAKT sampler, which was specifically designed for rhythmic loop playback, manipulation, and mayhem. The convenient one-screen interface features tremendous sound shaping abilities without disrupting the creative flow, including a first-class multimode filter, an envelope follower, two LFOs, effects, and more. The loops have been set up so that they can be automatically synced to tempo, either via the Beat Machine or the Time Machine. The Beat Machine has loops divided into their individual hits or notes (slices) which means they can be played at a wide range of tempos without change in pitch. It also allows the user to give each hit or note individual settings for pitch, playback direction, pitch envelope, amp envelope, distortion, delay, and more; a MIDI file of each loop can be easily exported so that groove, accent, and feel can be manipulated in any host sequencer. The Time Machine time-stretches or compresses loops in real time.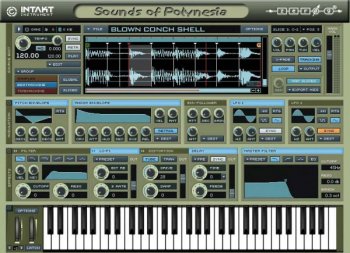 Not only can you sync, stretch, and pitch the loops, but also filter effect and modulate them as well! A powerful sound-shaping filter, flexible envelopes, syncable LFOs, and distortion, syncable delay, and lo-fi effects can inject even more energy and individuality into the loops, and morph every sample. Since the software interface is based on the INTAKT engine, working with it is fast, easy, and sounds great!
Library Content:
- Over 1.3 Gigabytes of instruments, rhythms, vocals & other indigenous and unique samples from the islands of the South Pacific and Australia.