Blue-Cats MB-7 Mixer v3.0 CE-V.R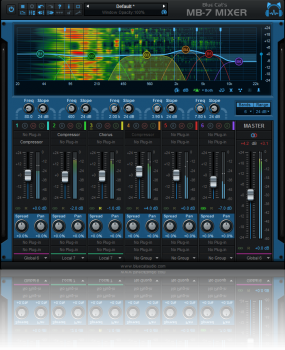 Team V.R | May 17 2017 | 45 MB
Blue Cat's MB-7 Mixer is a unique plug-in that splits the signal into several frequency bands and lets you mix and process them as if they were separate tracks.
Each band proposes controls that can be found on a mixing console, and more: bypass, mute or solo each band separately to isolate frequencies you want to work on, adjust the gain, the "stereoness" and the position in the stereo field. When manipulating the stereo image, a master mono switch also lets you check mono compatibility.
The plug-in can also operate as a multiband VST, VST3 and Audio Unit host: you can process each band independently with your favorite VST, VST3 or Audio Unit plug-ins! Up to four plug-ins can be loaded on each band, pre or post fader. Latency compensation, presets management, undo/redo integration, and individual plug-in bypass are included for optimal operation.
The plug-in also proposes unique linking and grouping options thanks to our multi-instances technology. You can link bands together within a single instance or between several instances of the plug-in on different tracks. This lets a simple fader control as many bands on as many tracks as you want. This is particularly useful when adjusting the placement or the balance of several competing tracks.
And as usual with Blue Cat Audio, the plug-in provides comprehensive visual feedback to let you know what's exactly going on: for each channel, monitor the spectrum, the in/out levels and the frequency response.
Thanks to its advanced MIDI and automation input capabilities, when combined with our other plug-ins, Blue Cat's MB-7 Mixer is capable of advanced side-chaining features that really unveils its potential. Check out our MB-7 Mixer Tutorials for more details.
If you are looking for a simpler plug-in to host VST, VST3 and Audio Unit plug-ins, please try Blue Cat's PatchWork. If you are looking for a multiband dynamics processor that can be combined to this plug-in for side chain effects, check out the Blue Cat's MB-5 Dynamix plug-in. Also, any Blue Cat Audio plug-in is compatible and can be hosted by this plug-in.
V3.0 (2017/02/23)

Brand new GUI design, with improved usability and touchscreen support.
Favorite plug-ins and their settings can be saved to be quickly reloaded later from a menu.
Unused channels for each hosted plug-in can now be muted (instead of default pass-thru).
Load/save native VST, VST3 or AU preset files.
Presets and parameters menus are now split in sub menus instead of a single list.
Additional user VST path to locate VST plug-ins is now available.
Missing VST & VST3 plug-ins are now automatically relocated.
Copy/paste and save band settings (including plug-ins) as sub-presets.
Map sub plug-ins parameters to automate them in host or control them with MIDI.
Lock GUI state to prevent changes when loading presets.
Band Controls Groups can now be identified by colors.
Adjust contrast for spectrogram display.
Spectrogram now keeps history when resized.
Import spectrum curves for EQ compare & matching, and export EQ curves to share with other Blue Cat Audio plug-ins.
Now supports retina displays on Mac (text and graphs using high resolution).
Now compatible with most recent Audio Units (Waves for example).
Changed demo limitations: up to 5 instances allowed, bypass time changed to half a second, and bypass parameter is not affected anymore.
Fully compatible with previous versions of the plug-in.
Dropped support for Windows XP and Mac OS X 10.6 and earlier.
just install

Team V.R
download from free file storage