Songtive Piano Companion PRO v6.11.227 for Android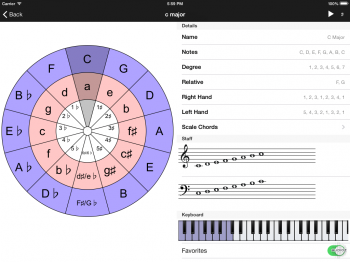 2017 | APK | 10.2 MB
Piano Companion is a flexible chord/scale dictionary with user libraries and reverse mode. Piano Companion allows you to find a chord or scale by its name. If you don't remember what's the name of a chord/scale, it helps you to find it by keys. Just press C, G and you will get C Major as the first chord in the search result.
Piano Companion shows chord/scale notes, degrees, fingering for both hands in major and minor scales. You can listen how a scale or chord sounds. You can see the list of compatible chords in the selected scale or list of compatible scales for a selected chord. The great advantage of Piano Companion is the fact that it's a growing application, so we will be glad to consider any new features which helps you to increase usability.
Key features:
1500+ piano chords, up to 6th inversions (Major, Minor, Diminished, Augmented, Suspended, Sixth, Seventh, Ninth, Eleventh, Thirteenth, etc.)
10000+ scales (Major, Minor, Chromatic, Pentatonic Blues/Major/Minor, Aeolian, etc.)
12 root keys
Chord Progression builder with scale patterns (chord sequencer)
Interactive Circle of Fifths
MIDI keyboard (with iRig) support for reverse mode in iOS6+
MIDI output for iOS7+ users, connect your favorite DAW with Piano Companion
List of available chords in Circle of Fifths
Key notations: English, Italian, Japanese, Russian, etc.
Reverse chord & scale lookup
Shows chord on the staff with treble and bass clef
Shows scale on the staff with treble and bass clef
Displays compatible scale's chords
Analytical labels: Secondary Dominant and Secondary Leading-Tone
Displays compatible chord's scales
Plays chords
Plays scales
Plays arpeggiated chords
Audio support
Relative scale suggestions
Scale lookup with major & minor scale fingering
Flexible chord & scale search using keyboard
User libraries with ability to add scale or chord
You can create you own chord libraries and chord charts
Ability to create favorite scales