IK Multimedia DJ Rig for iPad v1.0.0.IOS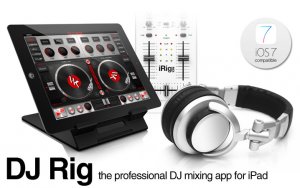 IK Multimedia DJ Rig for iPad v1.0.0.IOS | 44.05 MB
DJ Rig for iPad will absolutely blow you away with its professional features and ease of use. It'll give you capabilities that you'll wish you had "back in the day," when DJing with a traditional hardware set-up. We're talking features like Vinyl, Waveform and CD player modes available for each of the two decks – and that's just for starters. No other DJ app packs as many professional features into one elegant, intuitive and affordable package. If you're familiar with DJ Rig for iPhone, you'll be excited to know that DJ Rig for iPad greatly expands on its feature set, offering functionality that was previously only available in professional DJ software for Mac and PC. Like what you hear? Read on...
DJ Rig for iPad is the first DJ app that changes the way pro turntablists integrate iPads into their mixing rigs. Its advanced features – previously found only in professional DJ software and hardware – combined with the magic of the iPad's multi-touch surface, provide a whole new level of expression and creativity for DJs, with the convenience of total mobility. Everything you need is right at your fingertips. And when used with iRig MIX, our ultra-compact iOS mixer, DJ Rig for iPad provides an unbeatable portable set-up that satisfies even the most demanding professional DJ on the go.
A Complete DJ Setup...
With DJ Rig, an iPad and an iRig MIX, you will have the virtual equivalent of a hardware-based digital DJ rig, including two turntables, two CD players, a DJ mixer, a DJ multi-effects unit, a DJ pad controller and a laptop playing your music library.
Thousands? Nope, try Tens.
If you already own an iPad, just install DJ Rig for iPad, and you'll get similar functionality to a hardware rig costing thousands of dollars, but you'll be able to carry it with you anytime and everywhere.
Double Deck – Triple Mode Operation
DJ Rig is equipped with a double-deck setup, with each deck operating in three highly useful modes: Waveform, Turntable (vinyl) and CD Player Digital Jog. No matter what type of software or hardware setup you're used to, you'll find its equivalent in DJ Rig for iPad. DJs will have all the tempo and sync controls they would expect from a pro rig, and the new Waveform view, Drift Meter and Decks view provide immediate visual feedback regarding track sync. Direct cue with multiple cue points, 3-band kill EQ and a Load button for direct access to the iPad's music library round out the comprehensive controls available on the decks.
Mix & Sync like a Pro
In DJ Rig for iPad you can effortlessly mix tracks at the touch of a button, from any source. The built-in tempo sync will automatically sync the BPM, while our ultra-accurate beat-matching algorithm will ensure that your grooves are perfectly aligned for seamless transitions. Plus, DJ Rig's exclusive X-Sync feature will sync the tempo of tracks from your iPad's library with that of songs from external audio sources – turntables, CD players MP3 players, etc. – as that audio is imported into the app via an iRig MIX.
AutoMix — Like Auto Pilot for DJs
And now for another super-cool feature: AutoMix. Turn it on and DJ Rig for iPad will automatically mix and match beats and tempos of a playlist, or even your entire iPad music library!
Get Loopy Scratching
Add dramatic breaks, pauses and loops with the built-in loop surface, which features multiple loop durations. If you're experienced with scratching on vinyl, you'll find yourself right at home in DJ Rig for iPad, thanks to the accurate emulation of turntable behavior that the CloneDeck™ technology in the app provides.
Get Creative with Effects
DJ Rig includes an impressive arsenal of 18 high-quality DJ effects, from traditional effects like Filter, Flanger, and Stutter, to mind-boggling new sonic manipulators like Tail, Brake, Spin and Twist. It is like having an integrated professional DJ multi-effects unit in your rig, with the sonic processing quality you can only find in the most sophisticated and modern hardware units. The integrated XY control surface for each effect gives you the freedom to get creative on the fly.
Super-Size Sampler
DJ Rig also includes a fully featured built-in sampler with a matrix of 9 assignable pads for triggering. You can choose grooves, breaks and effects from any of the 7 included sound banks (in the full version of DJ Rig for iPad), and can control independent volume and pitch for each pad. You can also expand your sample library with more banks, or add your own live-sampled external material for an endless collection of creative expression and a truly personal performance. You can even sample "on the fly."
Did Somebody Get That?
DJ Rig also has another nifty little feature: a Record button. Was your performance at the helm absolutely brilliant? With the "Record" feature, you'll know! Go back and dig yourself digging the groove.
Features:
Customizable deck display with Vinyl, Waveform or Digital Deck interface featuring accurate scratching engine with CloneDeck™ technology
Waveform display mode for ultra-precise visual cueing
Fast BPM detection and beat-map analysis with Tempo Sync and Beat Match
X-Sync mode detects the BPM from external audio sources and automatically syncs the audio/tempo of the internal decks (when used with iRig MIX)
Advanced looping section with continuous loop surface; create loops with tempo divisions always to the beat; manual and slip mode
12 effects: Delay, Flanger, Crush, High Pass Filter, Low Pass Filter, Band Pass Filter, Comp, Auto-Wah, Phazer, Fuzz, Reverb, Stutter, all with X/Y touch interface control (all 12 effects are included in full version of DJ Rig for iPad, and are available as in-app purchase in DJ Rig for iPad FREE)
6 new "creative" effects (available via in-app purchase): Noise, Tail, Brake, Spin, Twist UP and Twist DOWN
On-the-fly expandable sampler with 9 pads and multiple sound banks (expandable via in-app purchase)
Live sampling functionality with volume and pitch control
5 visual cue points per song (1 built-in plus 4 available as in app purchase) and Auto Cue for automatic first-beat positioning
3 crossfader curves for customizing fades and crossfade filter
Direct access to iPod Music library and playlists
AutoMix Feature for automatic mixing of playlists or entire library
Live recorder allows recording of full mixing gigs
Supports/plays all major digital audio formats including MP3, AAC, WAV, AIFF
Multiple output configurations for virtually any audio setup
What's New:
iOS 7 compatibility